5 1-2i synapses manufactured with Self-Directed-Channel memristors with tungsten (W) dopant in a 16-pin ceramic DIP package. These devices were developed specifically for neuromemristive applications such as AHaH Computing and can be applied to custom CMOS circuits.
Available in 3 options:
Wafer-4 Tier 1 - All seven (7) synapses passed quality control
Wafer-4 Tier 2 - 6 of 7 synapses passed quality control
Wafer-4 Burn & Learn - 5 of 7 synapses passed quality control
For more in-depth information about the device properties and precaution to take while working with the memristors download the Knowm Memristors Data Sheet.
1-2i Synapse Chip Pinout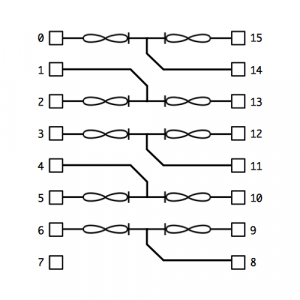 Related Videos
Disclaimer
The BS-AF-W Memristor is not a complete product. It is intended solely for use for preliminary feasibility evaluation in laboratory/development environments by technically qualified electronics experts who are familiar with the dangers and application risks associated with handling electrical mechanical components, systems and subsystems. It should not be used as all or part of a finished end product. If you are pursing a commercial use or application, please contact us.
MEMRISTOR SYNAPSE 16-DIP BS-AF-W 1-2I
Brand: KNOWM
Product Code: 134-MEMRISTOR-SYNAPSE-16-DIP-1-2i
Reward Points: 88
Availability: Out Of Stock
₹8,799.00

Price in reward points: 8799
Related Products